Precinct Dental in Abingdon has been established for over 60 years. A welcoming family approach and high quality patient care has always been central to the practice ethos. The practice now combines that experience and long-standing reputation with modern, up to date technology and state of the art dental treatments.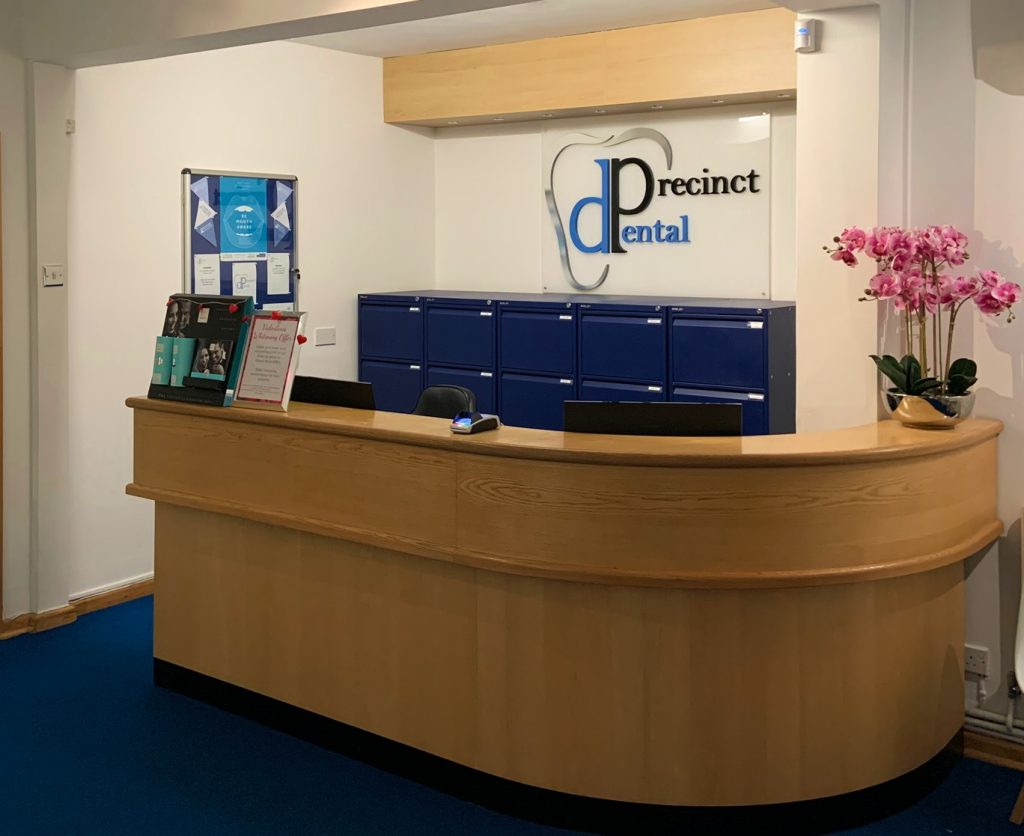 Our team of experienced dental professionals are bringing the practice into the digital age to optimise our patient's oral health – now and in the future.
Our mantra is "Gentle Dentistry Personalised to You".
As a practice, all our team members strive to provide a welcoming, calm and friendly environment for our patients.
Our Patients
Precinct Dental is a family-friendly practice and we have been providing high-quality care for existing patients for many years.
We welcome first-time patients. Our convenient location, with easy access, makes the practice ideal for busy professionals and families alike.
For regular check-ups, dental treatment, orthodontic or cosmetic treatments, you will receive individual care and bespoke oral health treatments.
Personalised dental care
We like to spend time getting to know our patients, listening and understanding their individual needs and concerns. Our objective is to provide optimal dental care with treatments that are adapted to individual requirements. We use the latest techniques and high-tech dental equipment.
We also have a great deal of experience in helping nervous or anxious patients through check-ups or dental treatments.
You will find a range of general, orthodontic and cosmetic dentistry treatments to improve your dental health, enhance your smile and boost your self-confidence.
Who are we?
Precinct Dental is a practice with 4 dentists and a team of long-standing professional and dedicated dental specialists. Our patients enjoy a unique and reassuring bond with our friendly dental and healthcare professionals.
The practice
Precinct Dental is situated in the main hub of Abingdon along the Precinct.
Our patients can take advantage of free parking in a number of car parks within walking distance of of the practice.
Being in the centre of town, there are good public transport links to Oxford and the surrounding villages.
We are a modernised and welcoming practice, embracing the digital age. You will find a calm and welcoming feel, from the reception area and waiting rooms to the surgeries.
Relax in the comfort of our patient chairs during your treatment.
Evening appointments are available, with late opening until 8 pm on Wednesday evenings.
We welcome all dental emergencies during our opening hours. Outside these hours, patients who call the practice are given a special emergency number to call.
Our Treatments
At Precinct Dental, we offer a comprehensive range of dental treatments:
General dentistry
Dental implants
Orthodontics and teeth straightening
Whitening
Cosmetic dental treatments
Childrens Dentistry
Hygiene
You may also be able to benefit from 0% finance, subject to conditions.
Meet our team or browse our treatments